Asian Neuro Centre Indore is central India's one of the most advanced neuro care centre. This centre is designed to raise India's global standing as a neuro care hub, with greater emphasis on excellence in clinical services, diagnostic facilities and research.
Our Vision is to be a global healthcare institution in the field of Neuro care that combines the best in medical treatment with strong ethical principles of care and compassion and a culture of honest practice.
Asian neuro centre was started with a mission to be an institution that offers comprehensive quality neuro healthcare services under one roof through honest and transparent patient-centric care ensuring patient, privacy and dignity. An institution where our goal is to adding life to years.
Facilities of Asian Neuro Centre
1. NEUROPHYSIOLOGY
Overview
The division of Neurophysiology is operational since the inception of Asian Neuro Centre is one of the best centres in Indore. It offers a
wide range of tests to diagnose neurological problems.The Neurophysiology Department performs a broad range of diagnostic
procedures.
Electroencephalogram (EEG)
An EEG records the electrical activity that arises from the brain cells. Multiple external electrodes are placed on patient scalp. These
elctrodes record the electrical impulses arising from different parts or areas of your brain that are picked up by these electrodes and
transmitted to a machine called polygraph. This polygraph machine
produces separate graphs on a computer screen. This is then
interpreted by neurologist.
EEG test helps in diagnosing following disorders:
Epilepsy or other seizure disorders
Brain tumour
Head injury
Brain dysfunction (encephalopathy,encephalitis)
Stroke or CVA
Sleep disorders
Dementia and Memory imapirment
VIDEO EEG
Video EEG is an EEG performed while the process is video taped. A Video is usually done for several hours and sessions may continue for a long time. It may be performed on an outpatient basis or ipd basis.A Video EEG is helpful in away that the doctor could observe an individual during a seizure. Just like the electrical signals, the individual's activity too offers important clues to the disorder, its exact nature and severity. Together electrical signals and patients
activity helps make a precise and accurate diagnosis. A video picks up seizure activity when the patient is clinical experiencing a seizure.
These are completely painless and non invasive tests and can be done on children and adults safely.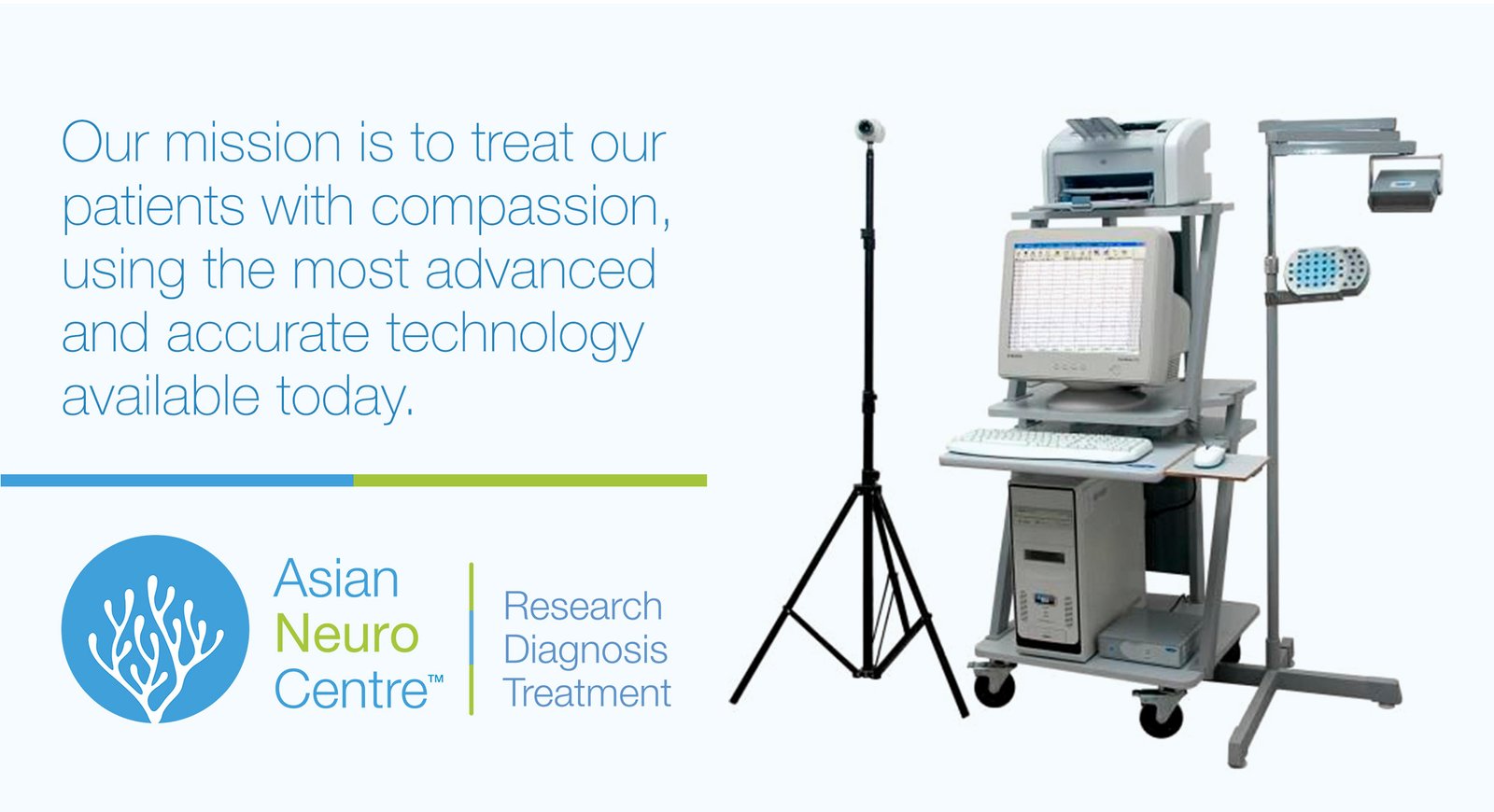 Nerve Conduction Study-
This test helps in study of nerves. In this test sticky electrodes will be placed on parts of your limbs, these are to record the electrical
responses from your nerves and tell how well they are working.With
the help of a special probe nerves are stimulated. The 'shocks' given are in Milli amperes and are quite bearable. The stimulus is local and does not travel all over the body. The Motor conduction stimulus feels like a sharp tap and causes movement of the area being stimulated.
Needle EMG examination –
This test is done to detect the muscular disorder. EMG is a diagnostic procedure to assess the health of muscles and the nerve cells that control them. This test is done using fine Disposable Electrodes, which are thin solid pins, this pin is inserted into the muscle to study the pattern and nature of disease. No shocks are given .The Needle is inserted just into the muscle for few seconds and patient is asked to slightly contract the muscle and the neural activity is picked up by the electrode and displayed on the monitor and along with this a sound over a loud speaker is heard and diagnosis is made on-line. The number of muscles examined depends upon the working diagnosis. Motor neurons transmit electrical signals through motor nerves that cause muscles to contract. An EMG translates these signals into graphs, sounds or numerical values that a Neurophysiologist interprets. The referring doctor may order for the tests if you have signs or symptoms that may indicate a nerve or muscle disorder. Such symptoms are:
Tingling in hands or feet, Numbness, Muscle weakness, Muscle pain or cramps, Traumatic Injuries, Peripheral Neuropathies, Muscle diseases: Myopathies, Diseases of Nerve and Muscle junction-Myasthenia Gravis, Diseases of Motor neurons of brain and spinal cord-Motor neurone disease.
Repetitive Nerve Stimulation (Decremental Study)
Among neurological disorders there are Certain diseases where muscle weakness fall neither in the nerve section nor in muscle part but are due to pathology at the junction of nerve and muscle called the neuromuscular junction. Special tests the Repetitive Nerve
Stimulation (Decremental Study) and even more sophisticated tests like Single Fiber EMG (SFEMG) can onlr evaluate these diseases.
Before performing this test patient are advised to stop medication 24 hours prior with your referring doctor's consent. Kindly carry the medication along so that it can be taken as soon as test is completed. During RNST test a continuous current stimuli (6-7 taps) are given to a nerve to be tested.
Evoked Potentials:
These are specialized tests that measure responses to Visual, Auditory and
Electrical stimuli which involve three major tests
Visual evoked potentials (VEP)Brainstem auditory evoked potentials response(BAERA)
Somatosensory evoked potentials (SSEP)
VEP : Visual evoked Potentials
Test the Optic pathway (Visual evoked Potentials). This test provides the most sensitive means of detecting lesions of the Optic nerves by studying the optic nerve. During this test in order to stimulate the visual system patient will be required to watch a checkerboard television screen infront of a computer . In the paediatric age group, the flash VEP may be used as a screening test for the visual pathway because children have difficulty in concentrating on checkerboard.
BAERA : Brainstem Auditory Evoked Potentials response.
Test the Auditory pathway ;BAER
We are recording the activity of the auditory nerve by studying the auditory pathway in response to a sound. During this test 3 wires (forehead and behind each ear) are attached and a headphone is kept on both the ears to pick up this electrical activity. It is a painless and non‐invasive test.
SSEP (Somatosensory evoked potential)
A somatosensory evoked potential (SSEP) is an evoked potential caused by an electrical stimulus. This investigation therefore tests the pathway of the sensory nerves to the sensory areas of the brain. A doctor may recommend you go for a SSEP test if you have been experiencing feelings of numbness or weakness in your arms or legs that may be due to problems affecting the spinal cord functioning. The SSEP procedure itself is safe and non-invasive. A small generator is used to create tiny electrical impulses that are used tostimulate nerves in the wrist or the ankle. While the impulses are usually not painful, they may cause your thumb or toe to twitch a little, which is normal.
2. Paediatric Neurological Disorders Clinic
Asian Neuro centre Indore has a special paediatric neurology clinic where besides state-of-the-art infrastructure and advanced technology, we at Asian Neuro Centre have a comprehensive and dedicated team that comprises of a Paediatric Neurologist, Epileptologist, Child Psychiatrist, Geneticist, Neurophysiologist, Clinical Psychologist and Child Counsellors. This highly Competent multidisciplinary team works in tandem with the patient and their families to ensure an optimum long term outcome for the child.T here are various types of Paediatric Neurological Conditions, with varying degree of nature and severity and need various types of treatment, that range from very benign febrile seizures to rare and uncommon and complex neuro metabolic disorders. Affected children may have multiple disabilities in the form of weakness, difficulty in speech and walking, and complex medical needs. They are best looked after by a multidisciplinary team that provides comprehensive medical care.
3. SPECIAL EPILPESY CLINIC
The Comprehensive Epilepsy Clinic is run to provide multi-faceted and holistic epilepsy care. It is equipped to address the needs of Children and adults with epilepsy.Asian Neuro Centre Indore, has established a Comprehensive Epilepsy Care Clinic for the evaluation of people with epilepsy to provide the best management. Asian Neuro Centre Indore provides state-of-the-art diagnostic facilities for epilepsy evaluation under one umbrella.
Asian Neuro Centre Indore, team is committed to extend care to the affected that goes beyond treatment. The Support Group of Asian Neuro Centre Indore, For Epilepsy meet regularly with epilepsy patients for the purpose of addressing recurring issues related to medication, education, employment and social issues for patients and caregivers. Asian Neuro Centre Indore is dedicated to eradicate
epilepsy a sort of social stigma in the society and create an awareness about epilepsy through periodic awareness programmes for the public. With such comprehensive care available, still we know that there is huge scope for improvement in the health of those afflicted with epilepsy as well as for safeguarding the health of those who fall in the high risk group of epilepsy.
4. SPECIAL PARKINSON & MOVEMENT DISORDER CLINIC
Overview
Parkinson's disease is a progressive nervous system disorder that affects movement of the body. Symptoms start gradually, sometimes
with a barely tremor in just one hand. Tremors are very common, but the disorder gradually causes stiffness or slowing of movement. In the early stages of Parkinson's disease, patients face may show little or no expression. Your arms may not or decrease swing when you walk speech may become soft or slurred. Parkinson's disease symptoms worsen as your condition progresses over time. Parkinson's disease signs and symptoms can be different for everyone. Early signs may be mild and go unnoticed. Symptoms often begin on one side of your body and usually remain worse on that side, even after symptoms begin to affect both sides. Although Parkinson's disease can't be cured, medications might significantly improve your symptoms.
Patient needs to See a neurologist if he have any of the symptoms
associated with Parkinson's disease — not only to diagnose your condition but also to rule out other causes for your symptoms.
Parkinson's disease care at Asian Neuro Centre
Asian Neuro Centre Neurologist are trained in nervous system conditions and other areas work together to determine the most appropriate treatment for your condition. Here we have rehabilitation specialists to manage problems with walking, speaking, swallowing and other aspects of daily life and a team includes nurses, social workers, physical, occupational and recreational therapists, and Asian Neuro Centre s many other specialists to help you manage Parkinson's disease. You can trust Asian Neuro Centre specialists to collaborate and offer you the best possible outcomes, safety and service.
Asian Neuro Centre care team has expertise in treating Parkinson's disease and other movement disorders with the latest therapies. Explore Asian Neuro Centre studies focused on testing new treatments, interventions and tests as a means to prevent, detect, treat or manage Parkinson&'s disease. Asian Neuro Centre neurologist is experienced, evaluating and treating about thousand patients with Parkinson's disease each year. Asian Neuro Centre are ranked among the Best centre for Parkinson's disease treatment.
5. SPECIAL DEMENTIA(Alzheimer's) CLINIC
Our Alzheimer and Memory Clinic is a specialist clinic for people with neurological problems resulting in memory loss, confusion, difficulty in speech and understanding, change in personality, aggressive behavior, hallucinations or depression.
The clinic offers a comprehensive screening and care program for AD and other memory disorders, including neurology consultation,
physical and cognitive rehabilitation, and psychotherapy. Since cognitive and behavioral problems affect the family along with the patient, we also offer family counseling services, help target rehabilitative goals and equip the family for KH supported long term home care.
The mission of the Clinic is to join hands with the patient and their family to alleviate suffering by offering the best in medical care by combining the latest scientific know-how, medical technology and personalized attention.
Why get checked for Alzheimer?
Early diagnosis of AD can maximise benefit from the available treatments and also allow the patient to take part in decisions about living options, medical treatment, financial and legal matters. The patient and the caregivers can also participate in building the right care team and social support network.
Please note
Most people with memory problems do not have AD. There are many types of dementia and correct diagnosis is essential for proper
prognostication and to institute appropriate treatment.
6.SPECIAL HEADACHE CLINICS
What is a migraine clinic?
At Asian Neuro Centre ,Indore , we are having a specialized headache or migraine clinic which specialises in the diagnosis and treatment of migraine and other headache disorder. In this Headache clinic our consultant neurologist who expertise in migraine treat the patient. patient are usually staffed by multi-disciplinary teams.Our migraine clinic will confirm if your attacks are migraine or other headache disorder, review your current treatment and suggest ways in which you can manage your condition. The clinic staff build up a wealth of expertise on the types of migraine, new treatments and will often be able to call upon the services of other experts.
Who need to attend a headache / Migraine clinic?
If you do not respond well to treatment or if your migraine attacks are not being well managed, further investigation may be needed. Most patient comes if they have doubt over the diagnosis of migraine; a rarer form of migraine may be suspected; If patient has other headaches besides migraine and may complicate your diagnosis; the treatment is not working well for patient; patient migraine attacks or headaches are getting worse/more frequent; or at your request.
7. BOTOX TREATEMNT
At Asian neuro centre facility for Botox Inj for following conditions
are available;
Migraine
Trigeminal neuralgia
Hemifacial spasm
Blepharospasm
Writers cramp