Sciatica is the kind of pain that happens in the sciatic nerve from the lower back area to the body's hips. Sciatica affects one side of the body. Furthermore, it commonly occurs due to spinal stenosis.
Symptoms of Sciatica
However, you will start feeling that the pain radiates from the lower spine area of your body to the buttocks. Then, the pain will go down to the legs. The pain at that time varies from a mild ache to a sharp one. You will feel electric shock condition in the body. Numbness, muscle weakness are the symptoms that the person experiences in the affected foot or leg. 
Consult Asian Neuro Center for the Best treatment of sciatica in Indore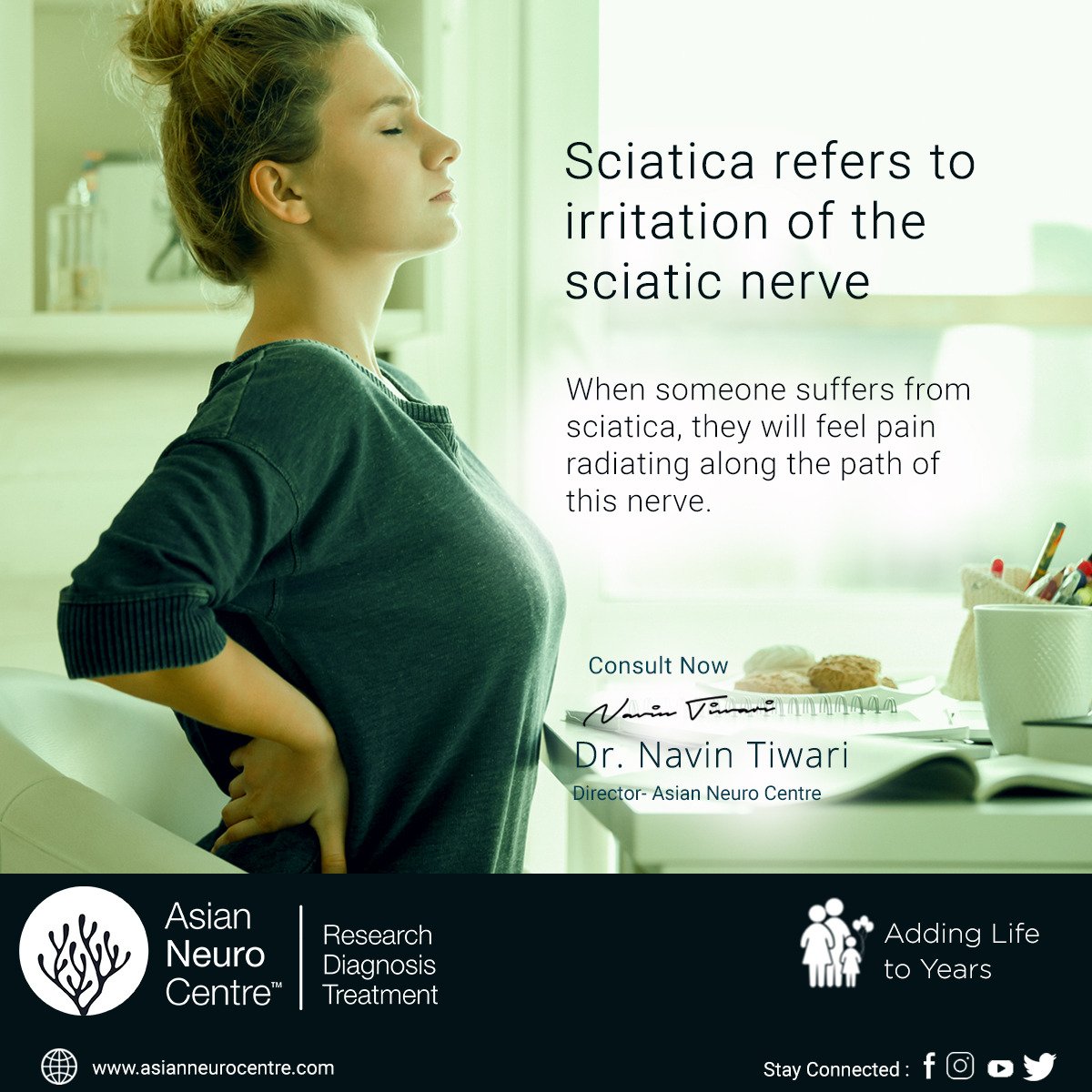 The condition of mild sciatica goes away soon. However, you are not able to ease the pain with self-care measures. Visit the Asian Neuro Center in Indore, providing the best treatment for sciatica. Dr. Navin Tiwari handles the director duties of Asian Neuro Center, and he is the consulting neurologist. 
The neurologists' team of Asian Neuro Center works with the philosophy of understanding the patient's pain. Then, they start with the treatment to heal the medical issue in the patient's body. 
Dr. Tiwari believes in forming a harmonious relationship during the treatment process. It becomes easy to deal with the patient suffering from complex issues. Asian Neuro Center has experienced neurologists working efficiently in handling the neurological medical conditions of migraine, seizure disorder, vision disorder, and Parkinson's disease.
Excellent facilities are available at our center. We are equipped with the latest technologies to provide proper treatment to the people at Neuro Center located in Indore City. Our neurologists follow the philosophy to simplify complex things. 
Asian Neuro Centre is one of the largest and most experienced practices in Indore where the best & experienced neurologist is skilled in dozens of specialties, working to ensure quality care and successful recovery.
Dr. Navin Tiwari
Consulting Neurologist